2021 SFA Adaptive Surf Camp – Inclusion with Skudin Surf
The program is designed to provide individuals with disabilities the opportunity to experience the healing power of the ocean. Surfing provides a sense of freedom that fosters independence and self-esteem. We have seen surfing enhance overall balance, coordination, and sensory functioning.
There will be four week-long sessions combining teaching, exercise, surfing and other fun activities designed to build friendships.
This is not a drop-off program. A parent, guardian or caregiver is required to remain on the beach for the entire session. Guardian participation in the ocean is not required but there must be a responsible individual on-site during the complete camping experience. The program is open to campers of all ages.
We have vast experience with a range of campers with different disabilities but there are certain minimum requirements. Campers will be on the beach, in and out of the ocean, for four hours each day. We understand "good days vs. bad days" but expect each camper to participate during the full session. Prior experience is not necessary. Space is limited. If your camper is accepted into the program you MUST submit his/her Individual Educational Plan or diagnoses to facilitate appropriate placement and accommodations.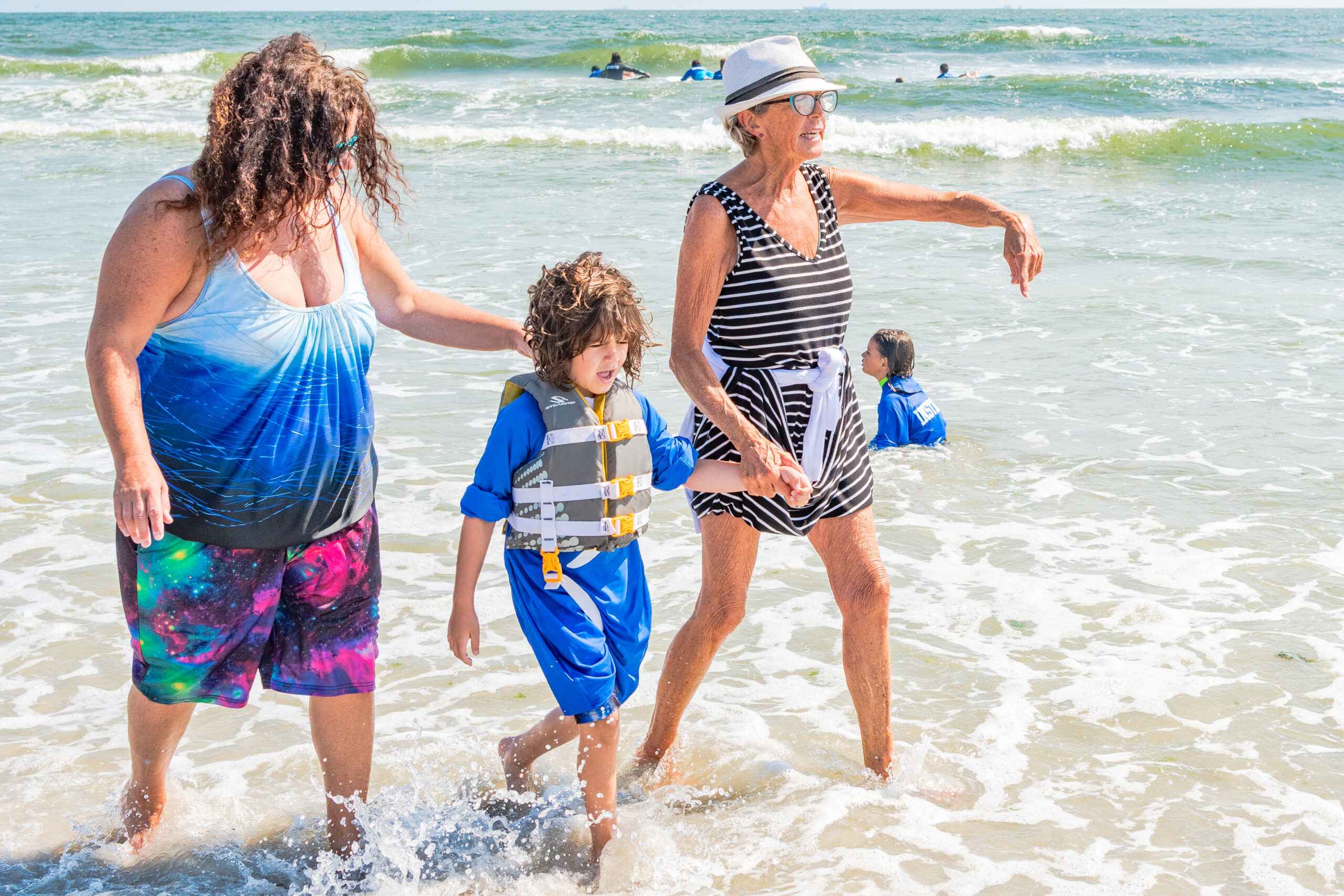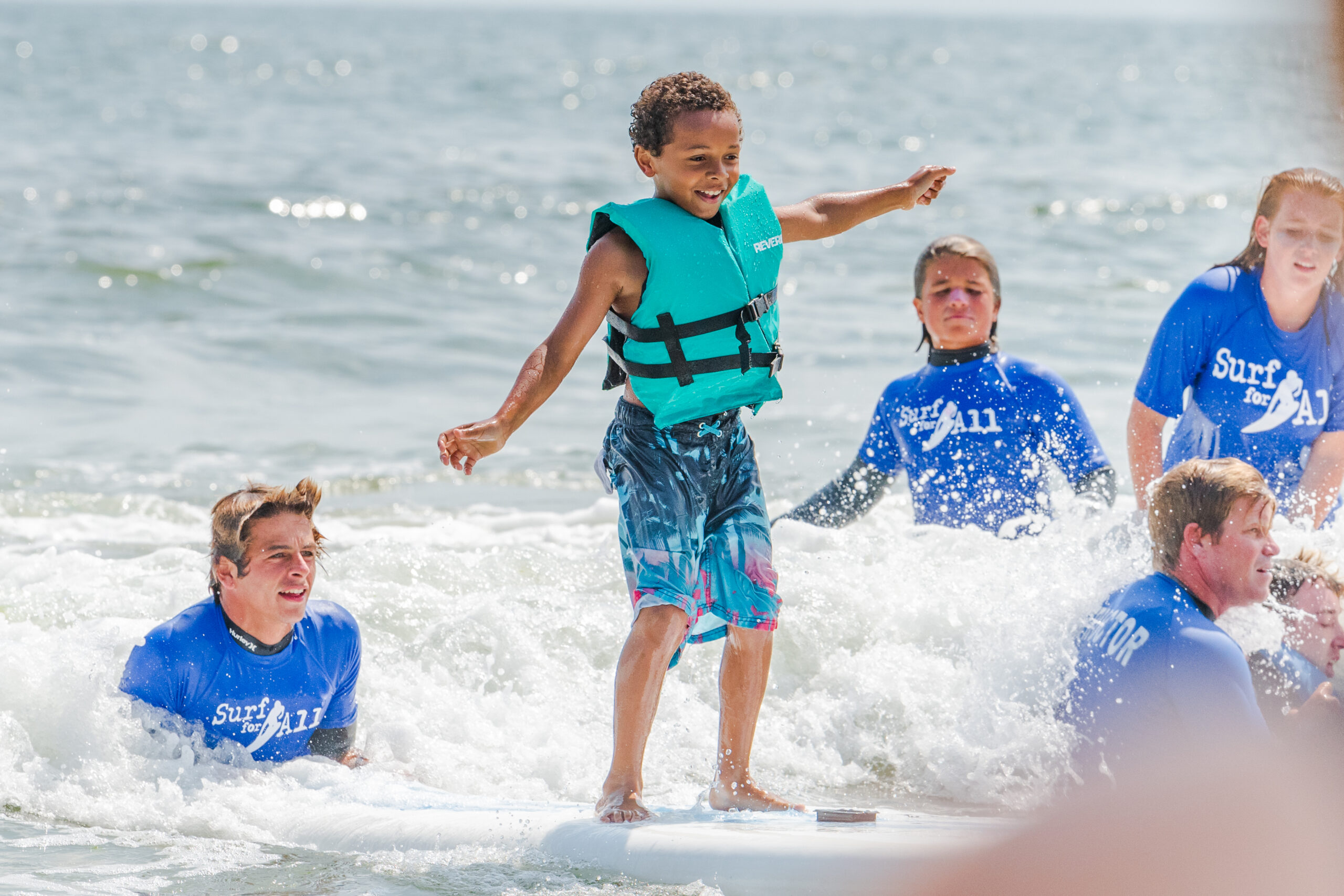 IMPORTANT: All participants must fill out and submit a waiver prior to participating. Waivers can be completed and submitted by participants, parents and/or guardians. Campers will not be allowed to participate without a waiver to Surf For All.
Cliff Skudin: A co-founder of Surf For All, Cliff holds a Master's degree in physical education and is a certified surf instructor and lifeguard. He is a third-generation surf instructor and co-founder of SkudinSurf, Long Island's largest commercial surf school.
Dr. Jeanine Sorensen: Dr. Sorensen is a co-founder of our Adaptive Surf Camp. She holds a doctorate degree in school-community psychology. She has been working in public schools as a school psychologist for 16 years, working with students with a variety of disabilities.
---
Staff members, both in the ocean and on the beach, have experience working with a wide range of students with disabilities. Each staff member has completed in-house training on pedagogy related to safety, skills, balance, education, recreation, and etiquette.
Guest instructors have included some of the world's elite surfers including co-founder Will Skudin who has competed around the globe as a member of the Big Wave Tour. Other participants include surfers training for upcoming Special Olympics and Paralympics tournaments scheduled in the run-up to surfing's debut as an Olympic sport in 2020.
Surf for All in-ocean instructors are certified lifeguards with verified first aid and CPR certifications. The beach-side staff has significant experience with a range of students with disabilities.
We offer four week-long sessions Monday to Friday. The first session starts July 15; second session July 22; third session July 29; final session August 5.
LOCATION:
On the beach on Riverside Boulevard (parking available on East Broadway between Riverside and Edwards boulevards). Public bathrooms and showers are at Riverside. All participants and guardians over age 13 will need beach passes available from the Long Beach Recreation Department.
Daily Schedule 9 AM to 1 PM:
INTRODUCTION:
Meet with beach lifeguards and certified NSSIA Surf instructors to discuss daily conditions and safety regimen. Each day begins with a "circle" – a gathering of all participants in a traditional Hawaiian ritual to get to know each other and thank Mother Ocean for her healing skills.
EQUIPMENT:
Surfboards and Lycra top rash guards will be provided.
Land Instruction: Safety – Hands-on instruction will be taught first addressing issues such as: "falling off the board," "surfacing," the "leash" that attaches surfers to their boards. We will stress the importance of following instructions. Students will learn the "pop up," how to jump correctly from a prone position. Finally,we will teach riding techniques that coincide to ability levels.
OCEAN SURF INSTRUCTION:
Each camper is assigned a one-on-one surf instructor. Additionally, professional and master surf instructors will assist in teaching and building a variety of surfing skills.
Related activities: A variety of "beach-side" recreational activities will be provided to allow campers to take breaks and physically recharge from surfing lessons. Each camp day is split between in-ocean and beach-side programs. Specific activities will include art lessons, beach games, social skills and light exercise. Our camp is a community and we want to ensure that each camper interacts with staff members and fellow campers to build a sense of belonging and camaraderie.
COME PREPARED:
Each surfer should bring a backpack filled with LUNCH, snacks, drinks, at least two towels and sunscreen (please apply sun screen on or before arrival). A hat is recommended. Pack lunch and liquids in a cooler bag. Make sure all items are labeled with the camper's name, including bags, food, drink and clothing. The sessions are about fun and safety.
WEATHER:
We will contact you via email by 7AM if conditions require cancellation. Be aware that conditions can change during the day and some sessions may be shortened. There are no provisions to make up cancelled sessions.
IMPORTANT: All participants must fill out and submit a waiver prior to participating. Waivers can be completed and submitted by participants, parents and/or guardians. Campers will not be allowed to participate unless without a waiver to Surf For All.